Betsy Ross Solitaire



A game of Betsy Ross - Click the picture to enlarge

Family: Mathematical
Deck: Single 52-card
Redeals: 2
Game time: Medium
Difficulty level: Medium
Skill level: Mostly chance
Chance of winning: Low - about 1 in 20 games
Rules
Object of the game: Build four foundations following arithmetic rules.
Setup
Take from the deck an Ace, 2, 3 and a 4. These cards will not be involved directly on the game and serve only as reminders of the arithmetic intervals to be followed on each column.
Take a 2, 4, 6 and an 8 from the deck, and place them as shown in the image. These are the foundations.
Game Procedure
On the first foundation (starting with "2"), build from 2 to King by adding one: 2, 3, 4, ... , K.
On the second foundation, build from 4 to King by adding two: 4, 6, 8, ... K.
On the third foundation, build from 6 to King by adding three: 6, 9, Q, 2, ... K.
On the fourth foundation, build from 8 to King by adding four: 8, Q, 3, 7, ... K.
Deal cards, one at a time, from the deck and play them to the foundations or the tableau.
Two redeals are allowed.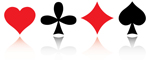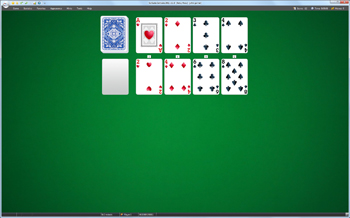 A game of Betsy Ross in SolSuite Solitaire

Download a 30-day Free Trial of SolSuite Solitaire
The World's Most Awarded Solitaire Collection