Blondes and Brunettes Solitaire



A game of Blondes and Brunettes - Click the picture to enlarge

Family: Queen of Italy-like
Deck: Two 52-card decks
Redeals: No
Game time: Long
Difficulty level: Medium
Skill level: Mostly chance
Chance of winning: Low - about 1 in 10 games
Rules
Object of the game: Move all the cards to their foundations.
Setup
The foundations for this solitaire will be different for each game. Take the first card from each of two card decks and place them on the table. These will be your foundations and they will be built up in alternating colors until each pile contains 13 cards.
Below the foundations, deal nine cards in a row. These are the tableau piles and they can be built down in alternating colors. In this game, you can build Kings on Aces when necessary.
Deal ten more cards from your decks and place them above the tableau in a row of overlapping cards. These are your reserve cards and can be played only to the foundations.
Game Procedure
The card on top of each tableau pile can be played to the foundations.
Only one card at a time can be moved.
If a space is created on the tableau, fill it with the first card from the waste pile or the stock pile.
When no more cards from the tableau or the reserve can be moved to the foundations, deal one card at a time from the stock to the waste pile. These cards can be played either to the foundations or another tableau column.
No redeals are permitted.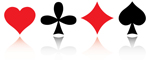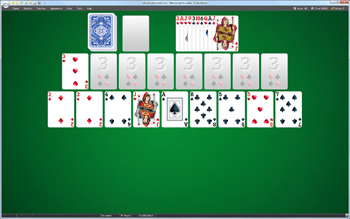 A game of Blondes and Brunettes in SolSuite Solitaire

Download a 30-day Free Trial of SolSuite Solitaire
The World's Most Awarded Solitaire Collection