Fortress Solitaire



A game of Fortress - Click the picture to enlarge

Family: Beleaguered Castle-like
Deck: Single 52-card
Redeals: No
Game time: Medium
Difficulty level: Easy
Skill level: Mostly skill
Chance of winning: Very low - about 1 in 100 games
Rules
Object of the game: Move all the cards to the four foundations, which will be built up in suit from Ace to King.
Setup
To start, place all the cards from a deck into ten columns.
The first two columns on your left will contain six overlapping cards each. The other eight columns will contain five overlapping cards each.
Game Procedure
Build up or down in suit among the cards at the top of each column.
You can move only one card at a time.
If you create a space on the tableau, it can be filled with any available card from the other columns.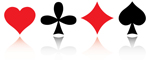 A game of Fortress in SolSuite Solitaire

Download a 30-day Free Trial of SolSuite Solitaire
The World's Most Awarded Solitaire Collection