Gaps Solitaire



A game of Gaps - Click the picture to enlarge

Family: Non-Builder
Deck: Single 52-card
Redeals: 2
Game time: Medium
Difficulty level: Easy
Skill level: Moderate
Chance of winning: Low -about 1 in 20 games
Rules
Object of the game: To create four rows of cards from 2 to King, in suit.
Setup
For this game you need a standard 52-card deck.
Shuffle and place all the cards face up in four lines of 13 cards per line.
Discard the 4 Aces.
Game Procedure
The empty spaces left by the Aces will be filled with a card one rank higher and of the same suit than the card placed to the left of the empty space.
Empty spaces to the right side of a King cannot be filled.
If the first space of the row is empty, only a "2" can be placed in it.
When you cannot move more cards, take all the out-of-sequence cards, shuffle and redeal, leaving one empty space between a Two or a suit sequence.
If there is no "Two" at the beginning of the row, leave an empty space and being dealing from the second space.
2 redeals: 3 deals in all.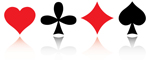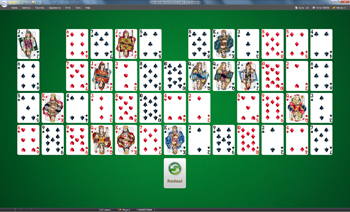 A game of Gaps in SolSuite Solitaire

Download a 30-day Free Trial of SolSuite Solitaire
The World's Most Awarded Solitaire Collection