Monte Carlo Solitaire



A game of Monte Carlo - Click the picture to enlarge

Family: Pairing games
Deck: Single 52-card
Redeals: No
Game time: Quick
Difficulty level: Easy
Skill level: Mostly chance
Chance of winning: Low - about 1 in 20 games
Rules
Object of the game: To send to the waste pile the entire deck in pairs of the same rank.
Setup
For this game you need a standard 52-card deck.
Shuffle and form a 5x5 square.
Game Procedure
Remove pairs of cards from the square following these rules:

they must be of the same rank
they must be side by side or
their corners must touch

When all possible pairs have been discarded, move up the remaining cards - in the order they're in - to fill in the empty spaces.
Fill in the empty spaces with cards from the stock.
Continue until you have discarded the whole deck.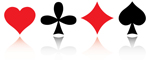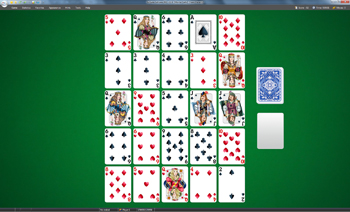 A game of Monte Carlo in SolSuite Solitaire

Download a 30-day Free Trial of SolSuite Solitaire
The World's Most Awarded Solitaire Collection