Tower of Hanoi Solitaire



A game of Tower of Hanoi - Click the picture to enlarge

Family: Puzzle
Deck: Partial deck (9 cards)
Redeals: No
Game time: Long
Difficulty level: Easy
Skill level: Mostly skill
Chance of winning: Very high - 1 in 1 if you persist
Rules
Object of the game: Arrange nine cards from a deck into a single pile, starting with Nine and ending with Ace on top.
Setup
Take from the deck, one series of nine cards from Ace to Nine.
Place the nine cards in three columns of three overlapping cards each, as seen in the illustration.
Game Procedure
Only the card at the top of each column can be moved to another column, as long as it is moved to a card of higher value (not in sequence).
If a space is created, it can be filled with the top card from either of the other columns.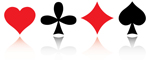 A game of Tower of Hanoi in SolSuite Solitaire

Download a 30-day Free Trial of SolSuite Solitaire
The World's Most Awarded Solitaire Collection